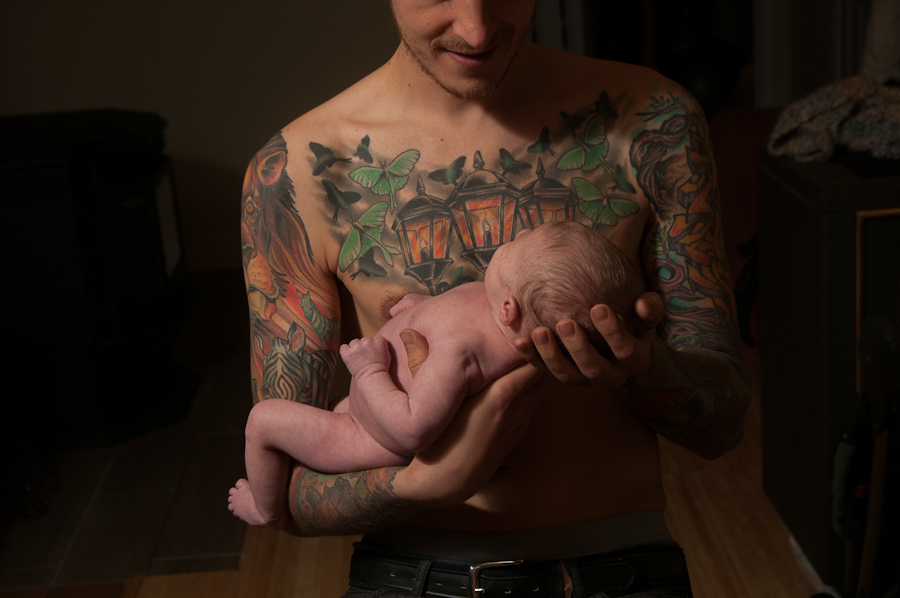 Thanksgiving is simply one of the best holidays – no pressure to buy gifts, surrounded by family and exceptional food, a lazy day ( unless you are without a dishwasher), a day to take a walk, a day to reflect on being thankful.
Two very good friends – Phil and Trina had their first child three weeks ago – and have no doubt what they are thankful for today! I spent part of yesterday hanging out with them and shooting photographs of newborn Tiana.
Cute doesn't begin to describe their little daughter and we had a great time with a very cooperative newborn. The one picture I had hoped for  was Tiana in Phil's arms – he's a very very talented tattoo artist – and he is a walking advertisement for his art. Anyone interested in getting inked should strongly consider Phil – contact him at Tattoo Junkies in Newmarket.
Random thought before the picture – I subscribe to a great blog, Mark and Angel Hack Life – here's a Thanksgiving thought they posted I'm passing forward:
Even in times of uncertainty, it's always important to keep things in perspective.
"True wealth is the ability to fully experience life."
 – Henry David Thoreau
You didn't go to sleep hungry last night.
You awoke this morning with a roof over your head.
You had a choice of what clothes to wear.
You haven't feared for your life today.
You often worry about what you're going to do with your life – your career, your family, the next step, etc. – which means you have ambition, passion, drive, and the freedom to make your own decisions.
You have a friend or relative who misses you and looks forward to your next visit.
You are reasonably strong and healthy – if you got sick today, you could recover.
You have access to food and clean drinking water.
You have access to the Internet.
You can read.
A wonderful holiday to all!