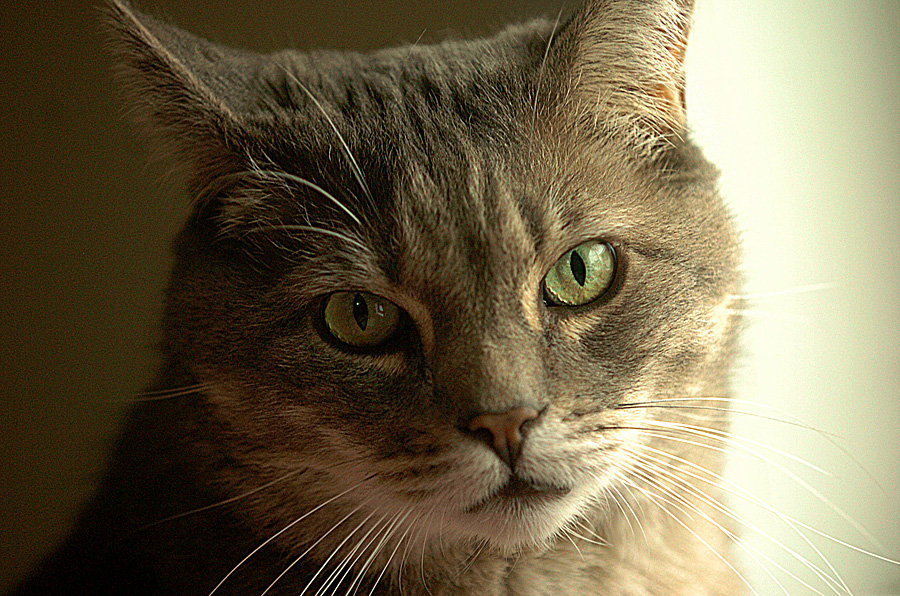 Last night Eliza and I dug a hole in the overgrowth up the hill from the house. I handled the pick, she the shovel. We were lucky – there weren't as many tree roots and rocks as you would expect in this part of New Hampshire, though the fact that we were digging at dusk did multiply the mosquito factor exponentially. Too hot to wear shirts or sweatshirts, a lot of bare skin was offered for their nightly feast.
The hole was about 3-4 feet deep, a couple feet wide and the same long. Big enough to accommodate Boo.
Boo was a big old tom – in his prime he weighed in at 20 pounds, not a lick of fat on that gray tiger. He was the terror of neighborhoods in Oregon, Minnesota and New Hampshire.
Understand, I'm a big-time dog lover, but cats have never been my thing. They're Ok, just not an animal I get closely attached to. My cats have always been more utilitarian – their role is mouse control, not chasing feathers at the end of a stick or other foolish games.
That's why Boo and I were so attached. When I would go for a walk – or take the dog for a walk – guess who would come along – Boo. The damn cat was convinced he wasn't merely a cat.
Boo didn't do those ridiculous cat carriers – he drove from Oregon to Minnesota, then Minnesota to New Hampshire riding in the car like a dog – loose, enjoying the wind or sleeping at the feet of the driver. Those rare trips to the vet – he just got in the car and went. While there, he was very content to sit in my lap and have me scratch his cheeks.
He had his quirks as well – he wasn't big on letting people pet him or fawn over him. He'd tolerate it for about 90 seconds, then chomp on their hand or arm with his mouse-killing teeth. The only person known to be able to scratch his belly was me – and only grudgingly did he relinquish that Alpha status. A couple time a year he'd try to get Alpha status for himself – never did succeed but that didn't stop him from trying. I remember a couple of vets who sported a lot of bandages when they thought he was just a big harmless cat during an examination. Fond memories, those shredded vets.
While living in Oregon, I saw an ad for a person looking for a good home for their Rottweiler. I was all over it! I called and the owner said he'd bring the dog for a visit – I was being interviewed for the dog! We had a backyard that was fenced in from the alley and other neighbors, so I suggested we bring the dog in back so he could run around. Sounded good to the owner until we went in the back and he saw Boo on the deck. I can't remember exactly what he said, but it was something to the tune that I better put the cat in before he let the dog loose. Evidently the dog was a destroyer of cats. I kinda shrugged and told him not to worry, Boo could handle his own. The dog's owner let him loose and he made a beeline for the cat. Boo just sat there, blinked…and proceeded to tear the dog's nose open when it got too aggressive.
Needless to say, the owner didn't think I was a good fit for his dog.
That cat was fearless – yesterday we cleaned out the winter accumulation of useless items and assorted treasures from the garage. Found three dead squirrels – no doubt the losers in territorial scraps with Boo.
I'd drive up the driveway and Boo wouldn't move – the car or truck had to go around him, that was all there was to it. Another cat in the yard…only if Boo deemed it acceptable. He had a corner of his ear missing from such a scrape – I never did see what the other cat looked like.
He was obnoxious in the way that only a cat can be. He delighted in walking across the keyboard as I typed on my computer. Sit in a chair to read and Boo would suddenly decide he was a lap cat. He jump in my lap and put his face in mine. No doubt who was going to get the attention.
The strangest thing – the cat loved cantaloupe! I mean once you cut one open, Boo would get the smell no matter where he was outside and not let you alone till you cut him a few chunks. And you had to leave the skin on the floor so he could clean any of the fruit still there. Really – cantaloupe.
Yesterday Boo died.
Hit by a car which means he wouldn't back down – he never darted across the street, that didn't fit life on his terms. I'm guessing the driver saw him, knew he'd move because that's what cats do. He didn't.
The driver didn't know Boo – and I'm sure didn't know he'd hit him.
I was on my way to the store when the call came – come home before you go to the yellow box. Donna was sitting in  the lawn, Boo in her lap. I knew something was wrong – she confirmed it though we didn't know how serious – he couldn't walk, back legs not functioning and he was panting like a dog.
A tearful visit to the vet emergency clinic. No hope of recovery so he had to be put down. I have to admit it's not how I thought it would end – thought he'd just go off to the woods one day and not return.
Yup, last night Eliza and I dug a hole. A hole to hold 15 years of memories.
I'll miss you Boo.