I shot Nicole and Joe's wedding in late February – what a splendid time! The wedding ceremony was in the Acadaemy of Notre Dame where Nicole went to school – a former monastery turned into school – you could feel the history in the hallways. Then off to the Andover Country Club for the reception, with a major surprise on the way. The wedding party was in a bus in front of me and as we came down an exit ramp I spotted a car in the median strip with flames coming from the rear wheel. Nicole's dad spotted it to because the bus stopped and a tuxedo-clad father of the bride came running out with a fire extinguisher in hand. He's a professional firefighter and duty took over.
Can you imagine a guy in a tux fighting a fire?!
After putting it out, he cautioned the occupants to stay clear of the car until the fire department arrived, then looked at them and said, " Sorry to run but I've got a wedding to get to!" And we were off to the reception. I swear, do this long enough and you'll see the most amazing things!!!
The reception was great, not anti-climactic at all – I knew many of the guests from a wedding I had done in October, second shooting the wedding was good friend and colleague Roger Ramirez and shooting video was good friend and amazing video artist Sean Cusick … it was like old home week!
The only thing missing was a gentle snowfall – Oh well, I guess you can't have everything.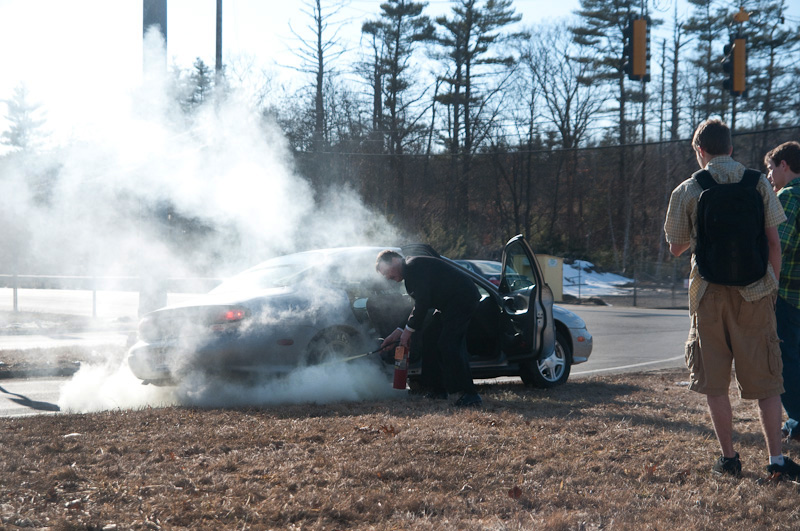 And here are a couple of really nice photos from Roger: