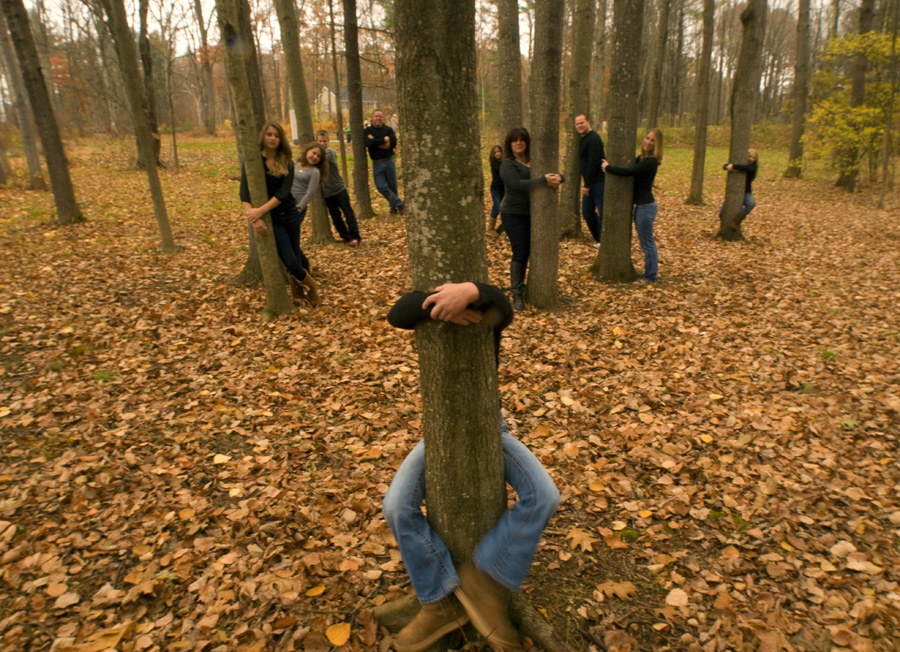 I market myself as shooting non-traditional family portraits, but I got a big helping hand recently from a seven-year-old.
A few weeks ago good friend and teaching mentor Stacey Clark asked me to shoot a family portrait of her, her brother and their families. It was a no-brainer for me to say yes – Stace has been ( and continues to be) instrumental in my becoming a good teacher, is a favorite photo subject of mine, and I love her family like they were my own. Her husband Eric has helped me out countless times, I think the world of their two daughters…how could I say anything but yes – it feels good to give back!
As we experimented with different areas in a local park and different compositions, I got the brainchild to layer everyone in amongst the trees. I'll admit, I wasn't quite sure how it would work out, but I figure just about anything is worth a try. I decided Stacey's youngest daughter would be perfect as the foreground of the photo. Everyone chose "their" tree and all of a sudden Maddie, being the mischievous girl she is, wrapped herself around her tree.
Bang! I had the most unusual family portrait I think I've ever done – all thanks to the spirit of a devilishly fun little girl!